Cinematic Film Production
Hi, I'm Rory Hinds and this is Mine.
I'm a Director of Photography living in West Vancouver, BC with over 20 years experience working worldwide on commercials, television and feature films.
I have had the honour of delivering footage for major motion pictures, award winning television shows and international commercials.
Mine is my company of a select team providing a collection of experience, skilled talent and cutting edge technology forged together with a solid international reputation of capturing epic images on the ground and in the air.
Mine is proud, humble, hardworking and passionate about creating moving images.
My production services are focused on strong storytelling and high-end cinematic quality.
That's what makes it mine.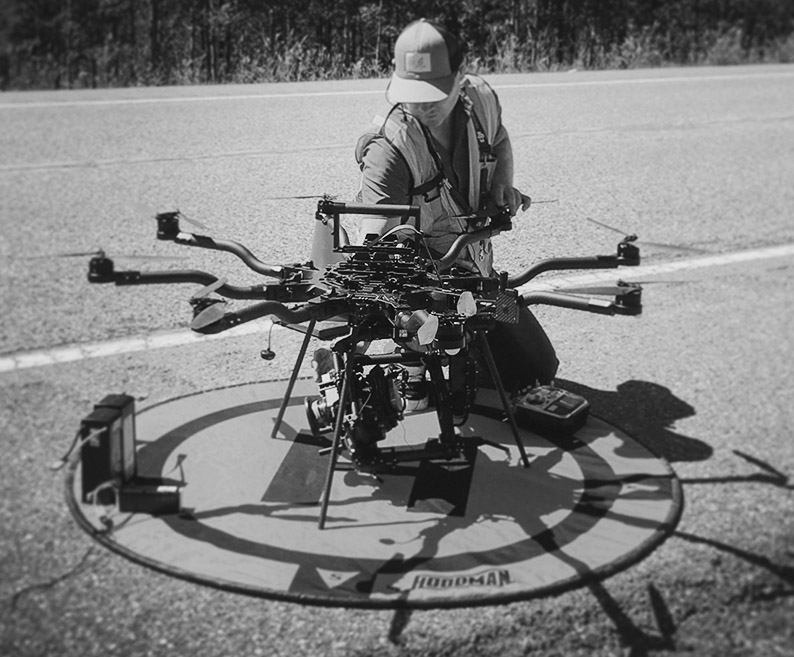 Rory Hinds
Director of Photography – Drone Pilot
___________________________________________________
Originally from South Africa I've been on the planet for 43 years and spent 15 years in London, UK before settling in Vancouver, BC.
I have a thirst for image creation, a burning passion that drives me to share a compelling story.
I exert a tremendous amount of my energy practicing the art of capturing light and shadows and mastering appropriate timing.
Using the latest technology and film making techniques I've had the honour of capturing images for award winning television shows (Fargo, Hell on Wheels) and major motion pictures (Angles & Demons and Kingsman).
I'm an IATSE 669 DOP and Drone Pilot working on both union and non-union shows with a complete Red 8K Helium camera and lens package both on the ground and in the air. I'm fully Transport Canada certified flying day and night with extensive experience in complex flight operations involving permits flying up the Calgary Tower, around Banff / Jasper National Parks and in crazy cold deep winter, high up in the alpine at -32 C (-25.6 F).
I'm honest, solid and dependable.

My team work hard to get the shot.
Ground & Air Cinematography
Stealth Camera Movement.
Behind all great art is a process.
My Mobile Basecamp
4x4 Mercedes Sprinter with on-board electrical
CREATIVE TALENT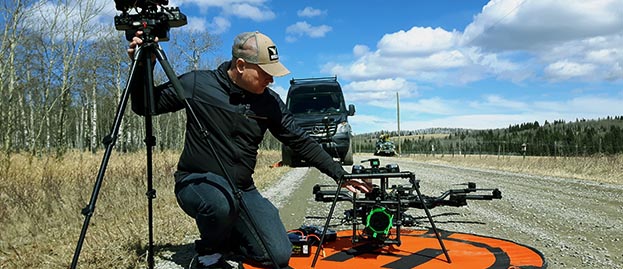 WRITER | PRODUCER | DIRECTOR | CINEMATOGRAPHER | DRONE PILOT | EDITOR | COLOURIST
My core focus is on cinematic images.
Mine Films offers film production and post production services to commercials, episodic television and feature films throughout North America.
I  build a team for your production or I can complement an existing team and come fully armed ready to create.
MOBILE BASECAMP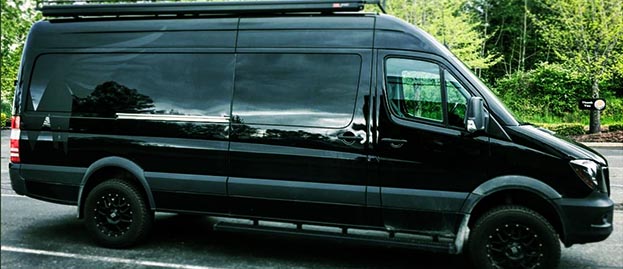 8K RAW | DIGITAL CINEMA | FLAME | UAV DRONE | GIMBAL  | WIRELESS HD
Stealth Mobile Basecamp
I know being mobile is key to keeping productions moving. My custom built Mercedes Sprinter 4×4 Van is the ultimate in production vehicles and gives my team a mobile basecamp to keep batteries charged, footage downloaded and clients comfortable. 
I've crafted reliable methods to provide my clients with pixel perfect images, both aesthetically and technically.
My Mobile Basecamp
ultimate production vehicle
Totally self-contained and powered.
stealth - independent - comfortable
Mercedes Sprinter 4x4
prep gear - charge batteries - copy data - review footage
8K WEAPON CARBON FIBER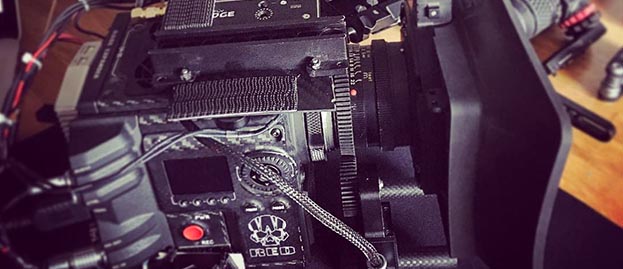 8K RAW | APPLE PRORES | DNXHR/HD | MOTION + STILLS
I've always lead the way with the UK's first Red Camera back in 2007. Today I'm capturing 8K images on Red's new 8K S35 Helium sensor, a 35.4 Megapixel image with 300Mb/s data speed. 
Complemented by the worlds most optical pure lenses, the Zeiss Otus which are pin sharp wide open at T1.3.
I backup my production work with Autodesk's Flame editing and visual effects aw well as colour grading with Davinci Resolve.
PILOT CONTROLLED FLIGHT, NO ROBOTICS.

8 BLADE OCTO | COMPACT | COMPLETE DRONE DEPARTMENT
My clients demand reliable camera movement that is controlled by a ninja drone pilot. 
I pilot and fly the FreeFly Alta which gives precise real world control without the robotic movement found in consumer drone technology.
My drone is a the ultimate aerial camera movement system that has a proven safety record and solid reputation.
Vision is the art of seeing
what is invisible to others.
"Man must rise above the Earth—to the top of the atmosphere and beyond –
for only thus will he fully understand the world in which he lives."
Socrates
Flying Red Weapon Helium 8K
8K - 100fps - RAW - ProRes Motion - Stills
My Stealth Aerial Systems
Impeccable Safety - Rock Solid Images
IATSE 669 DOP & Drone Pilot
Working on union & non-union productions
Please enjoy my Aerial Showreel

Mine Aerial Division
The leaders in aerial cinematography.
I spent years building 
and selling heavy lift drones worldwide to pilots who demand the very best. Now I focus purely on flying the worlds most advanced drones for film and television.
I'm fully Transport Canada certified with an "OPEN PERMIT" to fly commercially throughout Canada both Day and Night.
Being a member of IATSE 669 as a Director of Photography and Drone Pilot, I work on both union 
and non-union shoots.
I specializes in flying the Red Weapon 8K Helium and am proud to have 
one of the a cleanest safety records that help keep productions moving fast.
Whatever the location, I get the shot!
Please take a look at my setup.
My in-house feature film projects
scripts I've written and are passionate about
I work worldwide
My base is on Eagle Island, West Vancouver, BC, Canada.
World Explorer
South African - British - Canadian
Mine Films
5806 Eagle Island
West Vancouver
V7W 1V5
Canada
BC           : +1 778 806 1740
Alberta  : +1 403 827 6154
USA        : +1 818 748 8428
UK          : +44 (0)207 193 2572
©2017 Mine Films. All Rights Reserved.